There are many missed opportunities in former industrial waterfront regeneration, seaside developments, and riverfront projects, as well as too many inappropriately designed urban projects on flood plains and river basin which need to be addressed in the context of sustainable contemporary European urbanism for waterfront development. Very often the natural and urban resources of riverfronts, lakefronts and seasides remain either unused or enjoyed by a privileged few.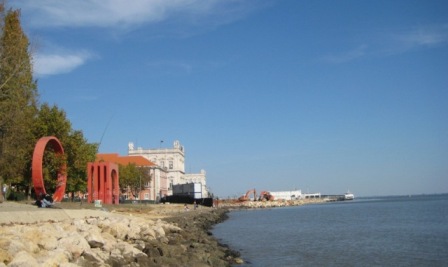 Arsenal de Marinha, Lisbon
Waterfronts in splendid inner city locations are often undeveloped and derelict even when there is an urgent need for new or regenerated urban space for a fine grained mix of housing, retail and other land uses.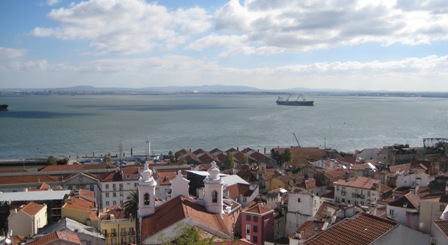 The Historic City and its Tage Riverfront
Peripheral sprawl, heavy-handed mega-structures and high-rise object buildings are often the consequence of, or a pretext for, a poorly thought through development approach. Most cities still have many regeneration opportunities in walkable locations, among them important waterfront sites.
Cais do Sodre, new European Community Building hitting the Tage Riverfront, Lisbon
Lisbon is a particularly fascinating example of urban construction and reconstruction, with a spectacular riverfront and one of the world's most beautiful squares on the Tage, the Praca do Comercio, which is the historic gate to the city for those arriving by boat.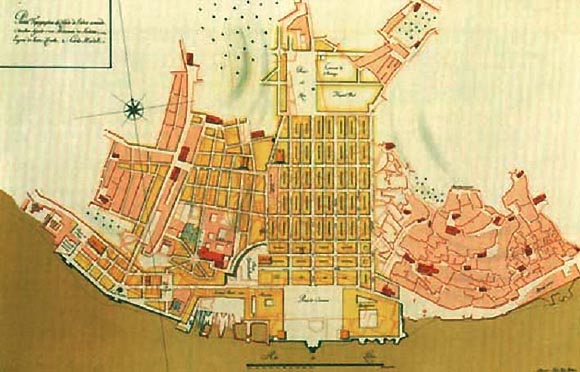 The Pombal Plan for the Reconstruction of Lisbon after the Earthquake of 1755
A number of banal and vulgar riverfront development projects threaten the integrity and identity of Lisbon's riverfront and invite a more thorough reflection at European level on the future of European cities' waterfront developments.